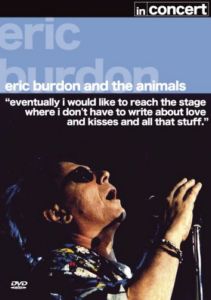 Music
USA  /  English
Want to hang out with true rock and roll royalty? This DVD puts you on tour with one of the best. Clearly, Eric Burdon is one of the crown jewels of the English rock scene. We took a crew to England to capture Eric and his new menagerie of Animals as he headed home to Newcastle upon Tyne, and back to the United Kingdom for his first tour in over twenty years.
Back home in Tyneside, they held a special birthday performance at the historic Newcastle Opera House and I can tell you they rocked! The hometown crowd loved him so much that they showed their appreciation by selling out two shows there. For this tour, he decided to shun the usual line-up of roadies, trucks and huge lighting rigs and get back to basics, Everywhere Eric and the band went, his fans, friends and the press greeted him with reverence, respect and sheer vocal awe and we had our cameras in their faces for most of it. Think about it.
Eric and the Animals were, without a doubt, one-third of that early British musical triumvirate, basing their original groovy sound on the blues. You had the Rolling Stones from the south of London; the Fab Four from the west in Liverpool; and way up north in Newcastle were the dark and mysterious Animals. Of course, all good things come to an end and the original Animals group broke up. But Eric Burdon and that voice continued on to make a powerful noise with other musical collaborations that are still talked about as innovators. I could go on and on about Eric's musical partnerships and experiences, but that's covered in his books that you should read for yourself. To quote John Steel, the Animals original drummer and Eric's friend, -Eric has always stayed true to himself-. And he's done that by doing what he loves to do, perform and make people happy.
This documentary-style DVD is a record of a Geordie's triumphant return home and an insight into Eric's warm-hearted feelings for his hometown. If you're a fan of Eric Burdon, you'll be glad this DVD is part of your collection. We'll take you on stage as he performs in concert, backstage to show you a glimpse of Eric's touring life and his proving that Yes, You Can Go Home.
1. See See Rider
2. Sky Pilot
3. When I Was Young
4. Don't Bring Me Down
5. We Gotta Get Out Of This Place
6. I'm Crying
7. It's My Life
8. The House Of The Rising Sun
9. Boom Boom
10. Hey Gyp
11. Bring It On Home To Me
12. Careless Love
13. Factory Girl
14. Not Fade Away
15. Heartbreak Hotel
16. Blaydon Races.
Streepjescode
5034741358118
Regio
Region 0; Region 2
Release Datum
8-10-2007
Scherm Verhouding
Fullscreen (4:3)
Geluidssporen
Dolby Digital 5.1
Stereo
Lagen
Enkelzijdig, Enkellaags
Aantal Disks/Banden
1